And now, this...my third and final video clip presentation of the York H.S. Class of 1952's 55th Reunion held earlier in October, 2007. Many thanks once again to classmate, Carroll Knight, for lending me his video camera...and to Punky Stevens for his labor of love in planning the entire event--- from beginning to end. And what would an ending be without this, Punky's farewell photo. And so, 'saying goodbye to all...until next time' --- standing shoulder to shoulder and from left to right at the 55th are--- Ralph and Ursula Lane, Ted and Sharon Truske, Ned (Peter) Baugh, Barbara Allen Drews, Howard Malstom, Carolyne Larson Jordan, Ken Jones, Darlene McClelland Knight, Ann Gustafson Jervis, and Carroll Knight. And in front of them, kneeling from left to right are: Ralph (Punky) Stevens, Jim Dunham, Pat Peacock Ald, Tom Hodge, and Phyllis Palmer Durham.
The video clip now being loaded automatically into the Windows Media Player immediately below focuses on the moments leading up to this,

The Last Picture Show .

In terms of its size, this clip @ only 32 MB is by far the least of the others found @

http://york1952.tripod.com/55th/23_WELCOME_BACK.htm

and @

http://york1952.tripod.com/55th/24_THE_PROCESSION.htm

. And when this third and final production of mine finally does load, it will be only 3-minutes in length. Like the two others preceding it, this video clip will begin playing automatically without you having to prompt it by hitting the

'play button'

on the Windows Media Player immediately below. And also like the others before it, loading time of this video clip will vary from one computer to the next depending on your Internet Connection Speed. And once again, rather than present this video clip in its much larger original AVI format, I have compressed this 3-minute segment into a file of type WMV---

again being converted into Microsoft Zune Best Quality, 320 X 240 @ 1112 kbps .

And. like the other two before it, I was unable to dub-in my own sound clip--- a MPEG layer-3 rendition of Bette Midler's 'The Rose' first introduced in the 1979 motion picture by the same name --- into the video itself, which of course also has it's own live sound track. And, just as I did in the first two video clips, I embedded this music into my presentation even while the video clip first loads, then plays. And when you do begin hearing my music first, followed by the video's sound bytes, my music will play continuously throughout this presentation --- long after the 3-minute video clip plays itself out --- for the music loops through infinitely

--- whereas the video clip does not. Soooo, to play the video clip a second time...or perhaps even a third time... you will have to hit the 'play button' on the Windows Media Player to re-play the video clip from its beginning.
----------- ENJOY... and please be patient, giving this video clip time to load ... and when it does ... it will begin playing automatically and without further prompting:
Standing for us all, these are among "the lucky and the strong,"
for in the words of our classmate, Dick Leonard
upon the loss of his dear wife and our classmate,
Carol Ritzmann Leonard (1934-2007)---
"Cherish what you have while you have it."
Sooo, in closing, I say this to us all---
"Next time...Be there...for THE LAST PICTURE SHOW."
...Bruce***********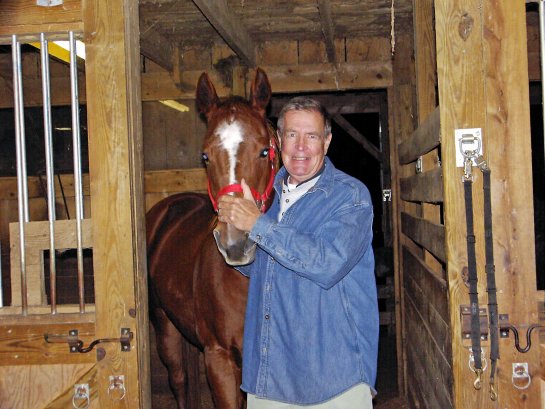 ...Bruce***** pictured here with 'Rocky's April Secret' in October, 2007
-------------------------------------- at the end of Magnolia Lane in Christiansburg, VA,
and still working on his "Raisins and Almonds---A Civil War Story"
...but one day...............
page counter 25