Marilyn, My Marilyn---
In a recent e-mail to all you York '52-ers, I mentioned my 2nd cousin, Marilyn Whitehead Blew, wherein I told you that Marilyn "was the Granddaughter of William Wilson 'Willie' Whitehead and the Great Granddaughter of John and Emily Ellen Clarke Whitehead --- who, together, are the co-heroes of my one and only novel, 'Raisins and Almonds--- A Civil War Story' "--- a seemingly endless story that I am forever working on.
But as contemporaries growing up together, Marilyn was always more than that to me. Much more. In fact, at the time I didn't even know we shared such common ancestry as this, for I only knew Marilyn to be my very favorite 'cousin' --- and that was really all that mattered to me. We weren't quite the same age, Marilyn and I, but we were close enough to enjoy each other's company at family gatherings. And we lived somewhat nearby one another--- she in Blue Island, and I in Elmhurst --- both suburbs of Chicago. Of course there was gas rationing back in those days of WWII, so travel to one another's house was restricted. And whenever the families did gather, it was always for Sunday dinner.
I remember this one Sunday in particular. But before I take you there:--- You know, back in the days of WWII, big-ticket items like new cars, new refrigerators, new stoves, and the like were simply not available. You did with what you already had. And when they broke down you got them repaired, not replaced. This one summer our already spent, Norge refrigerator --- built in the years immediately following The Great Depression--- with it's tiny '2-tray-and no-more, yet always-frosted-over' freezer compartment--- broke down. And so we spent the next several weeks without refrigeration of any kind while parts were "on back-order." Of course we had no air conditioning in those days either, and so to get at least temporary relief from the intense summer heat and humidity, as a family unit of three--- my Mother, my Father and I--- we would go into downtown Elmhurst, walk into what was then the 'Ford Hopkins' --- a drug store chain of some note in those days, situated on York Street near the alley-way across from Schiller Street--- and once inside, we would sit down on the stools at the soda fountain and order "three limeades." We did that many-a-time over the course of that summer before our refrigerator finally got fixed. And ever since then, my Mother and Dad and I would wistfully recall our days of "three limeades." In particular I remember the Christmas of 1972--- even as I said goodbye to my Dad for what we both knew would be the last time--- he, lying there on the couch, resting --- and I, kneeling beside him, coat in hand and bags packed--- with my Mother standing by, her arms folded, just listening-in --- as my Dad and I spoke quietly of our days gone by. They were all once-upon-a-time days--- like all the times we would walk down the street to the high school grounds and "toss-a-few"--- that, and all of our "three limeades." Three weeks later, in January, 1973, my Dad --- Eugene Harold Downey, 1904-1973--- would be gone.
Now, returning to the story that I first began to tell:--- There was this one Sunday afternoon when Marilyn and her family, along with other extended family as well, came to our house in Elmhurst for Sunday dinner. We had some time on our hands, quite apart from all the adult conversation going on, and so we wondered what to do. It was only then that I came up with the idea of our walking on down to the Ford Hopkins in Elmhurst to get us a couple of limeades. And so we did. It was a mile-long walk, then another mile back, but we had fun, just as we always did whenever we were together. Marilyn was so comfortable to be with. She was always just as nice as could be, and I always enjoyed being in her company--- so much so that I remember telling my Mother that "Someday, I'm going to marry Marilyn." But my Mother was quick to respond: "You can't do that Bruce, because Marilyn is already related to you." And so for me, she will always be--- just as she has always been--- 'Marilyn, My Marilyn.'
<--H. Bruce Downey, York H.S., 1952 (now)... and our house in Elmhurst (then)-->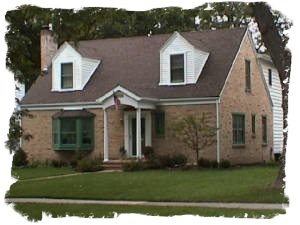 pictured above in 2002 with 'Rocky's April Secret" at what is now home to us all,'ratch hyar' at the end of Magnolia Lane in Christiansburg, VA (below)