"Are you goin' away...with no word of farewell
...will there be not a trace left behind ?"
All controls on this media player work & to rid yourself of 'spacebar' message left click anywhere on this screen.
Tom Paxton ...made of sand...made of sand.
"That Was the Last Thing on my Mind" ...In the wink of an eye my soul is turnin'
...in your hand...in your hand."
Presenting the York High School Class of 1952 on the occasion of its 50th Reunion at the Oakbrook Hyatt Regency in Oak Brook, IL on Saturday evening, October 5, 2002...

Editor's Note: For the 1952 names associated with these 2002 faces---should you need them---go to the ' Row-by-Row ' tab stop available at the very top of this screen. And please note that you can down-load the above photo (only 212,853 bytes) or any other picture at this, "Our 50th Reunion", website simply by dragging your cursor over any picture on any screen, then right clicking your mouse, and selecting 'save picture as' from the drop-down menu that will appear.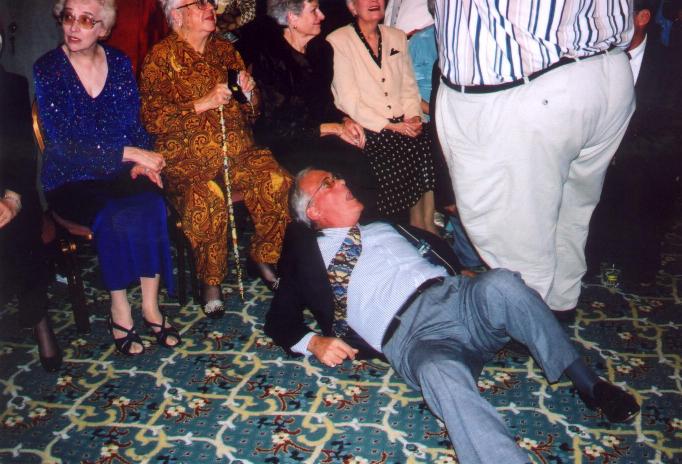 Bruce Johnson on floor, having been gently shoved (?) out of the way by the photographer !
The "official" Class photo is at the top of this page and the remaining photos on this page of the 41 men and 44 women who make up our 50th Reunion Class photo are presented here through the courtesy of Mary Wheeler. Thank you, Mary.