"A Time to Remember..."
All controls on this media player work & to rid yourself of 'spacebar' message left click anywhere on this screen
Brothers Four ...was so good to be young then...
"The Green Leaves of Summer" ...in the season of plenty.
...A time just for livin'...
...to be close to the earth...
...and sky after sky...
"A time just for flowers...
...now the green leaves of summer...
...are callin' me home..."
At both our Friday and Saturday night events, Ralph "Punky" Stevens and Jim Dunham provided us with bulletin boards to tack up mementos, old photographs, newspaper articles, and whatever else classmates wished to share. And share we did. As each posted item represented a treasured piece of our class' history, these bulletin boards were housed overnight in Bruce Downey's room for safekeeping---and then dismantled for good on Saturday night after the "Main Event" to be taken home by those who had brought them for all to enjoy. Only a very few of these items could be tracked down again for display here, at this,"Our 50th Reunion" website...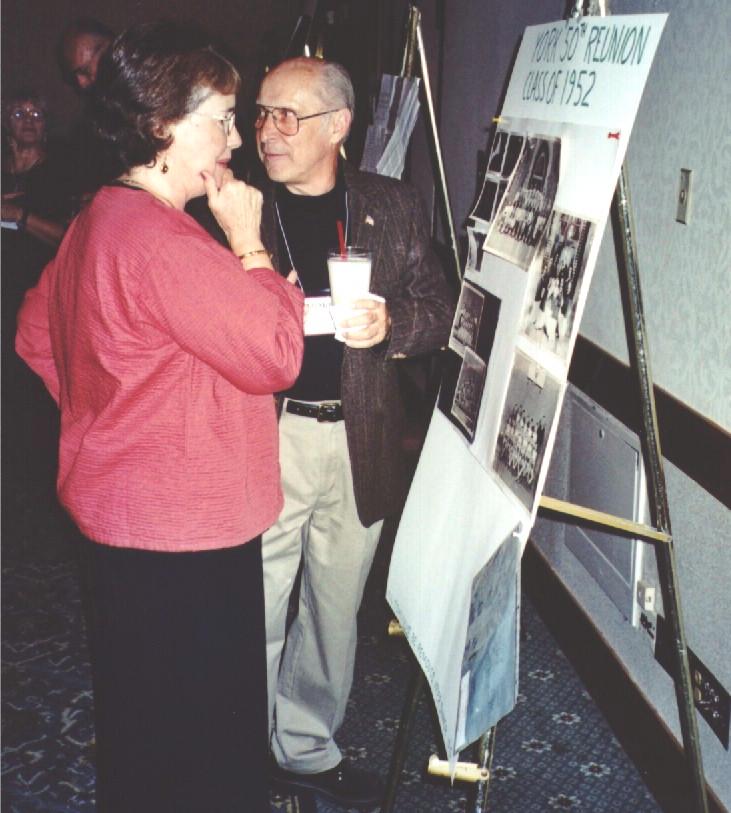 Betty (Bright) Serfling studies the bulletin board while Lloyd studies something else !
One of the most interesting of all the items posted at our bulletin boards was the one below. Forrest Rank is standing beside a framed picture containing the entire York H.S. graduating class of 1927. One of those in that class of 1927 was John Bartmann's (York '52) mother. I'm sure there were other points of significance to this beautiful picture and we'd all like to hear about them as well. So, who brought this picture ? I don't know, but hopefully we'll find out.
Hawthorne Jr. Hi's 1948 Cheerleading Squad---Remember them ? Well here they are, clockwise from the top: Dawn Benson, Grace Fielitz, Carolyn Tilly, Joyce Hartley, Charmaine Smith, Gloria Thompson, Marilyn Buelow, and Beverly Dornoff.

L O S T a n d F O U N D

NOTE: The original of this photo of the York Cheerleaders, 1951-52, (below) was inadvertently left on the bulletin board at our 50th Reunion. If the owner of this original print wants to reclaim it, just send an e-mail to crow@v.edu and it will be returned to you...

1951-52 York Cheerleaders from L to R: ????, ????, Connie Wolfe, Doris Strickland, Dawn Benson, Ann Gustafson, and ????



The York H.S. Varsity Basketball Team, 1951-52

YORK VARSITY BASKETBALL (1951-52):

Front Row (left to right) --Wally Kirk (23), Bob Conlin (22), Bruce Downey (14), Ron Hartman (20), Pat Lira (44), and Coach Forrest Birks.

Back Row (left to right) --Tom Burrows (Manager), Glen Schricker (2?), Wayne Mahood (12), Bill Shineflug (31), Jim Dailey (11), and Jim Backoff (Manager)

Not pictured -- Wally Strauch and Ernie ( a/k/a Junior ) Eckelman

L O S T a n d F O U N D

NOTE: The original of this photo of the York Freshman Basketball Team, 1948-49, (below) was inadvertently left on the bulletin board at our 50th Reunion. If the owner of this original black and white print wants to reclaim it, just send an e-mail to crow@v.edu and it will be returned to you...

Notice the size difference between Bob Golseth at


far right & say Bruce Downey, Bruce Johnson, & Bob Conlon--see story at 'Eavesdropping'

1948-49 York Freshman Basketball Team with Coach Koch in the 'Girl's Gym' where all our games were played on Saturday mornings...standing from L to R: Bruce Downey, Bruce Johnson, Bob Conlon, and Bob Golseth...leaning-in from L to R: Ken Eichenberger and John Green...sitting from L to R: Carroll Knight, Glen Schricker, Milt Lynnes, and Jack Langille...legs crossed and kneeling from L to R: ????, the late Jim Heiss, Ernie Eckleman, and Wayne Mahood. NOTE: All these guys made "the cut" to play for Coach Koch. And of these, three years later, it was Bruce Downey, Bob Conlon, Glen Schricker, Ernie Eckleman, and Wayne Mahood who made "the cut" to play for Coach Birks on the 1951-52 York Varsity Basketball Team...along with Pat Lira and Jim Dailey (not pictured above, but included in picture at left).



Note the basketball hoop on the garage---its still there !--but it must be new--see the 'square'?
"TOP OF THE WORLD" ---The house pictured above right is at the corner of Berkley Street and Elm Park Avenue, just around the corner from my old house at 198 Hawthorne Avenue and just up Berkley Street from Beverly Dornoff (Jellison) 's old house. This house (240 Berkley St.), whose driveway and detached garage was photographed by me on Sunday morning, October 6th, 2002--was Wally Kirk's house (York '53). Wally's family, including his sister, Jane (York '49)moved into this house when Wally was in fifth grade (1947-46) at Hawthorne Elementary and I was in sixth.
My earliest recollection of Wally was from across Elm Park at the Ryan brothers' house. Wally was always carrying a basketball with him. The Ryan boys weren't very interested in basketball, and quite frankly, neither was I at the time. But it wasn't too very long before I crossed that street and began playing basketball with Wally on this driveway in front of this garage where his father had put up a hoop. And from this humble beginning, Wally and I began playing a lot of basketball together. Sometimes we would just "shoot baskets." Sometimes we would play "twenty-one" ...sometimes "horse" ...and sometimes we would play "one-on-one, winners 'out' ". And it was during these "one-on-one" games that Wally perfected his "jump shot" because I was taller and bigger than Wally and he had to learn how to shoot over my outstretched arms and hands. And Wally was pretty good at that, even way back then, ...but when he missed a shot, well, it was all over, because I would invariably get the "rebound" and it would be my turn to score.
Then one day a guy pulled up and parked his car across the street and just sat there watching us play basketball. And he started doing this quite frequently, but neither Wally nor I knew who he was. And then sometime later, but before either of us reached high school age, as I was walking home from Wally's house a car pulls up alongside and this same guy asks me what my name was and "what's the name of that other kid ?" Well I told him what he wanted to know, but never thought to ask him what his name was before he drove off.
Well, I saw this same guy many times later...like he would come over to the Hawthorne gym, which was open for basketball on Saturday afternoons, and talk to Joe Krejci, our Hawthorne Jr. Hi. heavyweight basketball coach. And this same guy would typically be the referee at our sixth grade basketball league games...and still later he would be the referee of our Hawthorne Jr. Hi basketball league games. But it wasn't until I got to York High School that I finally found out who he was. I walked into my 9th grade General Science class for the first time in the fall of 1948 and there he was. He wrote the name, "Mr. Birks", on the blackboard.
Well that very first year at York (1948-49) I tried out for the York Frosh-Soph basketball team, coached by Mr. Ferry, but I didn't make the 'cut' . But I did make the 'cut' for the York Freshman team, coached by Mr. Koch. We played our games on Saturday mornings in the "Girl's Gym" and invariably, the referee for these games would be...you guessed it, Mr. Birks.
And so throughout that first year at York, it was always 'Mr. Birks' ...until the very last week of class when Mr. Birks asked me to come back to his classroom after school one day--and so I did. We sat down and Mr. Birks told me that he was going to be the Varsity basketball coach next year and he wanted me to try-out for the Varsity team. At that point "Mr. Birks" became "Coach Birks" and I reminded him that I was only going to be a sophomore that next year...to which he replied something to the effect that "it didn't matter...that if I was good enough to make the Varsity team, I would be allowed to play Varsity basketball as a sophomore." Well, when I walked out of that room that late spring afternoon, I just couldn't believe it. At the impressionable age of only 15, I was suddenly catapulted to the "top of the world" as I then knew it to be.
As things turned out, I wasn't quite good enough to make Coach Birks' Varsity team as a sophomore, and so I played on Coach Ferry's Frosh-Soph team that year--a team that Wally Kirk as a freshman did not make the "cut." But the following year, Wally Kirk not only made the Varsity team as a sophomore, he became a starter on Coach Birk's Varsity team and deservedly so. Accordingly, it was Wally Kirk who made it to the "top of the world" before I did, as my role during that, my junior year at York, was as the "sixth man" coming off the bench for the York Varsity basketball team.
Coach Birks knew how the game of basketball should be played and he was a motivator who demanded much from those who played the game. I did not play regularly for Coach Birks until my senior year, and then he asked only that I get the rebound off the defensive boards and get the ball into Wally Kirk's hands. And at 6' 4" I did just that about as well as anybody on the Varsity team during my final year at York. At long last I too had joined Wally Kirk at the "top of the world."
Coach Birks signed my 1952 York Y's Tales yearbook under our Varsity basketball team picture simply as follows: "Success at college--F. Birks." He was the only team member to sign my yearbook. Forrest Birks passed away in St. Petersburg, FL in 1983 at the age of 78. Walter F. Kirk died in 1997 at the age of 62. I shall never forget either one of them, for they both shared my "top of the world."
.....Bruce Downey (Number 14) York '52************************************