Don't hear anything ? Try playing this media player while viewing slides...< DIV>
The Pogues and the Dubliners singing a folk tune:--- "The Irish Rover" from Ireland
All controls on these media players work
Watch photos in "full-screen mode" by clicking on
above.
Footnotes to photos...
1. Uncle Ervin Downey was a U.S. Navy Seabee during World War II. He was stationed in Alaska.
2. From left to right: My father, Eugene H. Downey, Uncle Bill Black, still in uniform, and Uncle Ervin Downey, standing side-by-side in our backyard at 198 Hawthorne Ave., Elmhurst, IL in early fall, 1945 on the occasion of Uncle Bob's release from the Great Lakes Naval Hospital after enduring inhumane deprivation as a Japanese prisoner of war. He weighed 98-lbs when liberated.

3. From left to right: My father, Eugene H. Downey, my Aunt Frances Smithson Howe (my mother's only sister) visiting from California, my cousin Mary Frances Howe, Uncle Bill Black still in uniform, me at 11 years old, and Uncle Ervin Downey, all standing in the backyard of our home at 198 Hawthorne Ave., Elmhurst, IL. The occasion ? My mother hosted a family gathering celebrating the release of Uncle Bob Black's release from Great Naval Hospital in the early fall of 1945.
4. From left to right: Uncle Ervin and Aunt Betty Krueger Downey and an un-named child care-giver holding their first child, Lynn Downey, pictured here in our backyard at 198 Hawthorne Ave., Elmhurst, IL in September, 1956.
5. From left to right: Aunt Betty and Uncle Ervin Downey pictured here with Uncle Bill Black and daughter, Julie Black, almost 12 here, in December, 1964 on the occasion of Grandmother Black's funeral.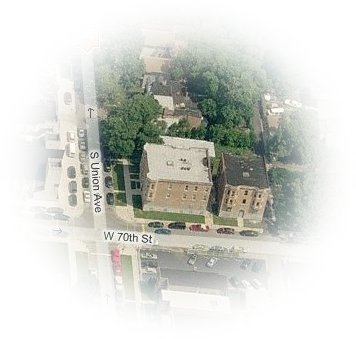 The Story of Uncle Ervin Maynard Downey (1911-1974):---
I remember my Uncle Ervin as being the one who lived with my Grandmother Ellen Sue Whitehead Black. They lived together for many, many years at 6959 S. Union Ave, Chicago, IL--- in a 5th floor apartment. It was a very large place with 4-bedrooms, a large living room, a dining room, a kitchen, pantry, and a single, but very large bathroom.
Uncle Ervin was the youngest of the four Downey boys, all of whom had families of their own. But not Uncle Ervin. Not yet anyway. He was unmarried in my time. I never really knew the financial arrangements of who contributed what in taking care of my Grandmother, but it appeared to me that it was Uncle Ervin who took care of all Grandmother's financial needs. For example, I'm sure that it was Uncle Ervin who took care of the rent for the apartment that we visited so frequently come Sunday afternoons. And it was Uncle Ervin who paid for all the household expenses and gave my Grandmother her "window-shopping" money for her jaunts up and down nearby Halstead Street which was only one-block over from South Union Avenue. And for as long as I can remember Uncle Ervin's sole source of income was as a bartender up the street and over onto 69th street just a short distance from their apartment.
My father and mother and I would come visit Grandmother about one Sunday a month. We would always come Sunday afternoons by car. And when we came Uncle Ervin would always be asleep on the couch in the dining room--- just covered from head-to-toe with the Sunday newspaper. He would be snoring away with nothing more than a sleeveless undershirt and under-pants. He never spent much time with me, as he had to get ready to go to his bartending job by say 4:00 p.m. on those Sunday evenings.
Uncle Ervin was himself a former athlete…both at Hyde Park High School and as a young man. So too was his nearest-in-age brother, my Uncle Gerald. But in those days at 6959 S. Union Ave, Uncle Ervin was by then a tad out of shape…and especially so after the World War II years. He entered the war late, probably because Grandmother was dependent upon him. So it was only after the war when I really got to know Uncle Ervin. He had a girl friend, Betty, and Betty would be there along with her little boy, Gregg, who though younger than I was always interested in paleontology--- a word I didn't even know. But by then Uncle Ervin looked a little paunchy--- like he had a beer belly--- and he was a little red-faced when you looked at him. His half-brother, my Uncle Bill Black, says he never saw Uncle Ervin take anything more than an occasional beer…but I always thought otherwise. Granted, he had to be sober while bartending, but I think that it is fair to say that he would have a drink or two while he was working…just to keep his customers happy. Alcoholics seem to have a way about them. They really never get 'under-the-table drunk' like occasional drinkers tend to be from time-to-time.
Another part of his personality was this. Uncle Ervin was a rough and tough guy, especially when compared to say my father and their oldest brother, Uncle Phay. Not only that, but in his day Uncle Ervin was himself a die-hard, South Chicago racist. He would tell me that he firmly believed that there would someday be an all-out war between blacks and whites, and he packed a gun to protect himself. He showed me his gun, but would never let me touch it. Uncle Ervin was what today we would easily call "a redneck" in every sense of that term. And in addition, being true to his heritage for the " Downey" that he was, Uncle Ervin was as Irish as they come--- ready for a fight whenever it might come his way. His own half-brother, my Uncle Bill Black, nicknamed him "Bricks". Yet at the same time he was always a guy who easily made friends, bringing a lot of them to the tavern up on 69th Street, thereby increasing the tavern owner's walk-in business simply because he hired Uncle Ervin as his bartender.
Uncle Ervin was always interested in athletics. In this respect he followed his nearest-in-age brother, my Uncle Gerald. As young men from the South Side of Chicago they both took up prize-fighting, and in addition both were also semi-pro baseball players. Uncle Gerald was the better of the two at fighting, so Uncle Ervin soon became his brother's handler. As for baseball, they were equally good, but played for different teams. Uncle Ervin played for the Marquette Arrows, whereas Uncle Gerald played for the Herwich Drug team. And after the games? Well, let's just say neither of them headed for home.
And then much later, when I developed into a basketball player at York High School, Uncle Ervin thought little of the game I loved--- but he did follow the game of basketball to the point of always telling me "that York would never beat Oak Park." And on that point Uncle Ervin proved to be right, for in my final year at York we had a chance to go to the State Championships. Only the team from Oak Park stood in our way. And in that game we took Oak Park to three OT's, but in the end we lost on a sudden death basket by a two-handed set-shot player--- their star player, who in the waning seconds of that game, I had just "switched" onto. I can still remember hearing Wally Kirk yelling "NO!"--- but by then it was too late, and the switch had already been made. Their set-shot artist was smaller than I, and to this day I can still remember playing off him so as to prevent him from moving on past me for an easy basket. But in my playing of him a tad too loosely, he saw it as an opportunity to go ahead and take his 2-handed set-shot from the very top of the key--- and then, swoosh! We lost that final game to Oak Park. Then, exactly one year later, in a college game with arch rival Yale, we went three OT's, and again, it was sudden death basketball. The first basket scored would win the game. This time it was our team who had the first possession. The ball came into me at the free-throw line. I turned around and in the same motion I shot my one-handed jump shot--- and swish, the Harvard Freshman Team beat Yale's Freshman to end the 1952-53 season! And earlier in that same season, when we traveled to Annapolis to play Navy's Freshman Basketball Team, Ernie Olds of our Class at York H.S. came to see me play. I didn't know that until after the game when he came up to me to talk to me. As my team's leading scorer and rebounder that Freshman year, I had a bright future of playing Harvard Varsity Basketball the very next year. But alas!--- It was not to be, for my legs gave out and I just couldn't run the floor anymore. My days of playing the game I loved were now over, and I would spend the remainder of my Harvard years playing "House Sports"--- helping Dunster House win the Strauss Trophy three years in a row.
But returning to my story of my Uncle Ervin, he would never stay for Sunday dinner at Grandmother's, for around 3 p.m. in the afternoon he would have to get ready to go to work by 4 p.m., at which point he was gone. He worked as a bartender just around the corner on 69th Street. He was employed as such by a small-time, South-side Chicago crook by the name of Barney Little. Barney ran a fencing operation out of the basement of the tavern above. He sold his merchandise to his tavern customers. They would go there for a few drinks…then after awhile, go on downstairs to see what he had. It was always something different. My father would never buy any of it, and of course I never went near the place.
Uncle Ervin worked for many, many years for Barney Little. It was almost like he couldn't leave for another job--- for my Uncle Ervin "knew" too much for his own good. But Barney took care of Uncle Ervin, providing him with enough wherewithall so that he could first marry Betty, then move out of the apartment at 6959 S. Union Avenue and buy a duplex, also on Union Avenue just a few doors north of Barney's place on 69th Street. At first Grandmother went with him and Betty…where they would live on the first floor of that duplex and Grandmother would live on the second-floor with her own entrance. Then Betty tired of that arrangement and convinced Uncle Ervin to buy their own, stand-alone house in suburban Oak Lawn, IL. That meant Uncle Ervin would have to leave Barney Little's tavern on 69th Street, and take with him any knowledge of that questionable operation going on in the basement of Barney's tavern. But leave he did--- and Barney let him go his own way.
Grandmother Black found her own place to live on Halstead Street up over a movie theater until her final illness. And when that happened, she once again went to live with Uncle Ervin and Betty and their growing family. In addition to Gregg--- who Uncle Ervin eventually adopted--- he and Betty had a daughter, Lynn, and a son, David. And for means of support, Uncle Ervin got a job as a custodian in the local school district there in Oak Lawn, IL. Then Grandmother died in 1964. And things went well for Uncle Ervin and his family. That is, they went well until one fateful day in October, 1974, when at the age of 63 Uncle Ervin suffered a stroke. But it was the circumstances surrounding that stroke that were so regrettable.
It seems that it was a Saturday morning and their family dog needed to go to the veterinarian. So Uncle Ervin hopped into the car with the dog and drove off. On the way he must have felt something that wasn't right, so he pulled over and turned the motor off. The police came by and noticed he was slumped over the steering wheel of his car. So they stopped and did some preliminary investigation as to who he was and where he lived. It was an era before cell phones, but the police had their own ways of communication between hospitals and personal residences. The police did not call for any ambulance, thinking he was not medically ill, but instead was drunk. And so they drove Uncle Ervin and his dog home, parked his car in the driveway, and went knocking on the door of the house. They told Betty their version of what had happened. Betty did not question their conclusions--- that Uncle Ervin was drunk inside that car. Instead, she went along with their story and took him a blanket, covered him up, and left him there inside the car. She apparently checked on his condition later in the day, then she herself went to bed. By morning's light Uncle Ervin was still non-responsive, so she called an ambulance to the scene, and it was only then that she received word of what had really happened. Uncle Ervin had suffered a stroke. He lived for three more days before dying of pneumonia on October ___, 1974.
The current (2009) whereabouts of Betty, Gregg, Lynn, and David Downey are unknown to me at this time. This 'Story of My Uncle Ervin Maynard Downey' was written by his nephew, H. Bruce Downey--- completely from memory--- in May, 2009.