" It's Saturday Night, Live ! "
...from Oak Brook, IL...
Within about 30-seconds of coming to this screen you should be listening to Carolyne Larson Jordan's rendition of "Deep Purple" just as it was performed live at "the main event" (see photo at right) on Saturday, October 5, 2002 on the occasion of the 50th Reunion of the York High School Class of 1952. If after 30-seconds either (a) the music STOPS PLAYING, or (b) you DON'T HEAR anything, then your web browser may allow you TO SEE two different media players immediately below this message. If you SEE these media players, try playing this tune by pointing to and clicking their respective PLAY buttons...just be sure to give each player about 30-seconds to load the tune after clicking its PLAY button. And to start this screen all over again to retry all these choices, including the automatic one, click on the "View" tab on Tool Bar at the very top of your web browser's screen and select "Refresh."
NOTE: As of July 28, 2003 everybody should be able to hear Carolyne singing "Deep Purple." But if you still hear absolutely nothing, scroll down to the bottom of this screen to DOWNLOAD and PLAY this tune on your own computer's media player while viewing this screen..


Our greeters--Irene Morgan Bergmann and Doris Strickland Collins



And here's Kenny Eichenberger at his best...



Jerry Wheeler, flanked by two of the best---Jane Whitney Robins (left) and Dawn Benson Corley (right



And here's Jerry again...this time with Bruce and Carol Johnson



Saying 'thank you'...with flowers to Irene Morgan Bergmann (left) & Doris Strickland Collins (right)



Irene (left) and Doris (right) acknowledging the Reunion Committee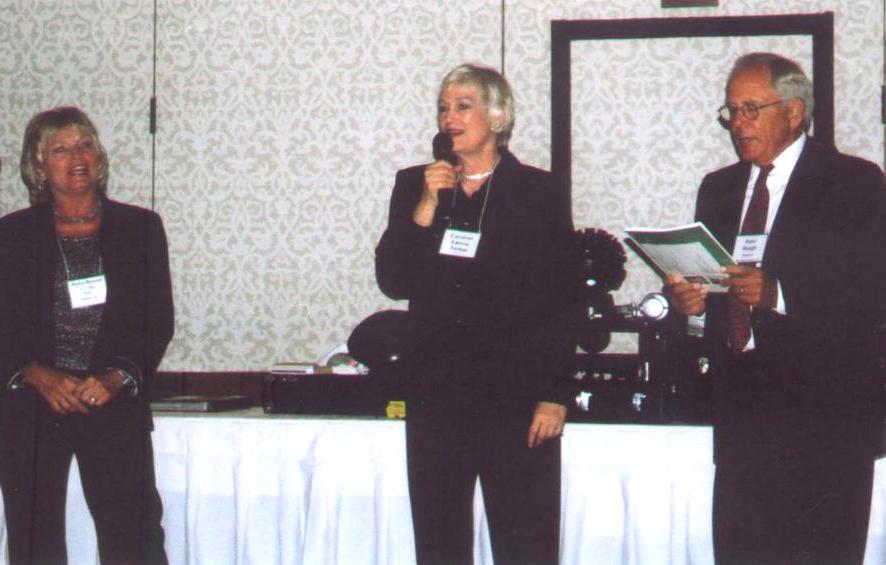 Carolyne Larson Jordan with Dawn (left) and Peter (right) just prior to her singing 'Deep Purple'

NOTE: Most viewers upon coming to this website will automatically hear Carolyne singing Deep Purple. But if you hear nothing then check to see that your speakers are "on" and your volume is "up," and if you still can't hear anything, try playing this media player:---

--------------------------------------

And if that too doesn't work for you, then point to and click on the following html coded link that will either (A) prompt your Internet Browser to play this tune, or (B) download this tune temporarily to your own computer by selecting "PLAY" rather than "SAVE" if and when prompted. And if you download this tune, once your own computer's media player begins playing Carolyne's Deep Purple, minimize your media player's window so that you can return to view this website page--- http://york1952.tripod.com/55th/CLJsDeepurpleMPEG.wav