A few words of introduction are in order regarding the musical selection you are now listening to. At our house we have a finished walk-out basement where a completely restored antique piano sets in our sitting room. Built in 1905, this piano is the 95th piano ever made by Jacob Doll (nee Dahl) & Sons of New York City. My wife, Nancy (Radcliffe, '56), is an accomplished pianist, having taken piano lessons from the time she was but a little girl through her senior year at Arlington High School in Arlington, MA. Nancy never got to play "last" at any of his or her teacher's recitals--but she consistently played "next-to-last." One of the pieces Nancy still plays for me is the same piece your are now listening to---a special piano arrangement of Pachelbel's "Canon in D" --- performed for us here by an unknown artist --- one of "the greatest hits of 1721 !" Whoever is playing here must have always played "last" at his or her recitals. And by comparison, Nancy's version may still be "next-to-last"---but then I've never been able to tell the difference between 'the best there is' and 'the next-to-best' at anything--- can you ?
And I leave you with just this one final thought. You know, for me, sitting quietly and listening to music this good...well, you could describe it as 'poetry in motion' or like looking at really good art, except that, as with all music, you have only a moment to enjoy it...and then, before you realize it...it's gone. So enjoy the music you hear here and everywhere, as often as you can, and while you still can. Music is a gift...from an artist...to you.
...H. Bruce Downey, York '52 --- November, 2002 --- working on 'Raisins and Almonds---A Civil War Story' --- at the end of Magnolia Lane in Christiansburg, VA************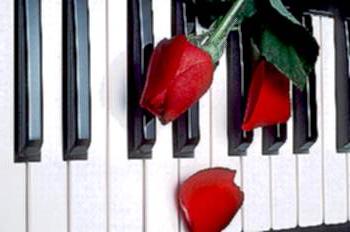 All controls on this media player work & to rid yourself of 'spacebar' message left click anywhere on this screen.